What you need to know about iOS6
What's new in iOS 6?
Plenty! Siri and Maps get the most substantial upgrades: Siri will be able to answer your questions about sports, movies, and more; Maps now uses Apple's own cartography and includes built-in turn-by-turn directions. Other updates include systemwide Facebook integration, a new app called Passbook, and all sorts of other odds and ends.
What devices will run iOS 6?
The new OS will run on the iPhone 3GS, iPhone 4, iPhone 4S, and iPhone 5; the iPad 2 and third-generation iPad; and the fourth- and fifth-generation iPod touch.
Noticeably missing from that list is the original iPad. While it may seem surprising that a tablet that only debuted two years ago can't run iOS 6, it's really not—Apple hasn't sold that version of the iPad for a while. And a growing number of newly released iPad apps require the faster processor and improved graphics of the two most recent models. From Apple's perspective, it's time for the original iPad to join devices like the iPhone 3G in the unsupported bin.
Does every device get the same features?
Not quite. The iPhone 3GS gets left out of quite a few iOS 6 features—no flyover or turn-by-turn navigation in Maps, and it also won't support Siri, Shared Photo Streams, FaceTime, or the Offline Reading List. The iPhone 4 also misses out on flyovers, turn-by-turn navigation, FaceTime over 3G, and Siri. The iPad 2 remains Siri-less.
What about the new iPad?
The third-generation iPad will join the iPhone 4S, iPhone 5, and fifth-generation iPod touch as the iOS devices that offer Siri support.
When does iOS 6 come out?
How much does it cost?
iOS 6 will be a free update.
Will I need to connect my iPhone to a Mac or PC to upgrade?
No. iOS 5 brought the ability for iOS devices to update their software over the air, without any PC involvement. That extends to the iOS 6 update, which will be able to be downloaded and installed directly on your device. If, for some reason, you're still running iOS 4, you'll need to upgrade via iTunes.
System features

What's Do Not Disturb?
A nice way to keep your phone from buzzing, beeping, or otherwise annoying you when it shouldn't. You can use Do Not Disturb to set specific hours in which you won't get notifications or calls; that can be modified to let you receive calls from those in your Favorites or from those who call you multiple times in a preset time period, so that you don't miss anything important.
What are the new Accessibility features?
Designed for students with disabilities (but also good for just about any young child), Guided Access lets you disable certain sections of the screen and turn off hardware buttons, touch capabilities, or motion-based sensors. Apple's VoiceOver service also now supports Maps, AssistiveTouch, and Zoom. Additionally, the company is working to help vendors create Made for iPhone hearing aids that will be compatible with the iPhone 4S and the iPhone 5.
I heard there were new versions of the stores coming out. Is that true?
It is indeed. All three of Apple's mobile stores—he iTunes store, App Store, and iBookstore—get a unified matte black design. More than the new look-and-feel, though, Apple is also promising improved performance and other tweaks. The stores figure to add features like the ability to install an app without booting you to the home screen, a feature that can be used to install an app from within another application, and a section for viewing your preview history—all the easier to buy those music, movies, and TV shows you've been perusing—and integration with Facebook. (Facebook Like and Twitter sharing buttons now appear on individual product pages.)
We'll know more when we get a chance to walk the virtual aisles of these mobile stores, but in a demo during its September 12 press event, Apple showed off a big carousel of featured apps, music, videos, or books greets the user whenever they launch one of the apps.
Voices, voices, everywhere
What's new with Siri?
Though Siri is still classified as a "beta" feature in iOS 6, it gains a host of new abilities. Among them are abilities to answer sports- and movie-related queries, more and better data when you ask about restaurants, and of course the ability to offer those turn-by-turn directions in Maps. You'll be able to launch apps using Siri, too.
And as mentioned above, you'll be able to do all this from a third-generation iPad as well as from an iPhone 4S, iPhone 5, and fifth-generation iPod touch.
Hey, I saw a Clock app on the iPad in one of Apple's screenshots! Are we finally getting Clocks, Stocks, and Weather?
Well, yes and no. In iOS 6, the third-generation iPad can provide answers related to the weather, stocks, and time, but only the Clocks app exists as an actual native iPad app so far.
Can I really use FaceTime over my cellular connection?
You can in iOS 6, yes! (Assuming you're using an iPhone 4S, iPhone 5, fifth-generation iPod touch, or third-generation iPad.) Previously, FaceTime conversations required a Wi-Fi connection but that expands to cellular with iOS 6. Apple says that in order to bring FaceTime to cellular connections, it's tweaked the feature so that it uses less bandwidth on those connections and is a bit more robust at handling data drop-outs. If you're worried about unplanned calls eating up your cellular data plan, you can turn the feature off.
However, keep in mind that the ultimate arbiter of FaceTime over cellular is going to be your wireless carrier. AT&T has already announced that it will only support FaceTime over cellular for subscribers of its Shared Data plan. Verizon and Sprint say that they won't put any limits on which iPhone customers can use FaceTime over cellular; if your phone supports it, so will they. The regional carriers have yet to announce their intentions.
What's new with the Phone app?
When you get a call that you can't take, you can quickly tap a button to send a prewritten iMessage to your contact or quickly add a reminder to call them back later. By default, iOS 6 provides you with three generic messages, but you can customize these in Settings.
Nothing left to map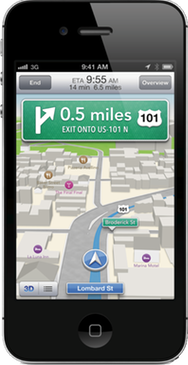 What does Apple's new Maps have?
Let's start with what it doesn't have—any connection with Google. Apple has gone its separate ways from its one-time partner—and current, Android-making rival—with a revamped Maps offering that it built in-house.
The new Maps app offers all new maps, with custom cartography from Apple. Maps includes built-in, Yelp-integrated local search, with more than 100 million business listings. It integrates traffic details, with the ability to tap in to see descriptions of individual traffic incidents and road work locations. The maps are vector-based, so zooming in and out is quick and painless. Prominent places, parks, and historical landmarks are called out on the map with little icons. Tap an icon to get an information card with more details, hours, images, and reviews sourced from Yelp.
But the hallmark new feature is probably turn-by-turn directions, which work in tandem with Siri, guiding you towards your destination. You can get re-routed around traffic and also ask for points of interest (like gas stations) along the way.
Also new are flyovers, 3D models Apple has built by flying over major metropolitan areas with planes and helicopters. Though their utility may be open for discussion, they certainly look spectacular.
It says certain cities aren't covered! Does that mean I can't get directions?
Nope. This caveat only applies to the flyover view, as Apple has yet to map every city. Your regular direction-getting experience should not be affected, however.
Is Apple Maps lacking anything Google Maps has?
There's no Street View, per se; instead, Apple is using a combination of Flyover and satellite imagery. Additionally, Apple is doing something a little different when it comes to public transit: Instead of providing its own database, Maps will look to third-party apps for transit information, ensuring that your queries pull from the best information. Finally, it doesn't look like the iPad's terrain view has made it into Apple's Maps app.
So are Find My Friends and Find My iPhone getting updates, too?
They are. Find My Friends will soon feature location-based alerts, notifying you when your friends arrive or leave a location. Find My iPhone, meanwhile, gets a new Lost mode; while in it, your device will map where it's been and you can send a message with a contact number for the finder to dial.
Mail and the Web
What new features are coming to Mail in iOS 6?
Look for two new organization options in Mail, VIPs and Flagged messages. Users have been able to flag messages in the past, but now you can see all those messages in a single folder; VIP messages are also organized into a smart folder, and you can receive different notifications about messages from those people as opposed to your other mailboxes. VIPs even sync back and forth via iCloud, so mark your mom as a VIP once, and messages from her will be correctly filtered on all your devices.
You'll also be able to add photos or video from your camera roll into a mail message by tapping and holding on the body of your message. And Apple's now added a pull-to-refresh option for updating your mailboxes.
What's new in Safari?
Four things: iCloud tabs, which allow you to see what pages are open on your other iCloud-enabled devices; an offline version of your Safari Reading List, so you can read articles when you're not connected to the internet; image and video upload in Web forms; and, on the iPhone and iPod touch, a full-screen mode for websites when you're in landscape mode.
Social and sharing
So iOS 6 will support Facebook, huh?
Looks like. Facebook has received the Twitter treatment in iOS 6: Users will be able to post status updates from Notification Center or with Siri; share photos, locations, and high scores; link contacts to their Facebook profiles; and Like apps, songs, albums, and movies from the App Store and iTunes Store apps (more or less replacing Ping, which appears destined for the boneyard).
In addition, you can update your Contacts database with information from your Facebook friends, filling in pictures, phone numbers, and other details with the press of a button. And you should only have to log into your Facebook account once, after which other apps should be able to reference those credentials.
What's this I hear about photo sharing?
If you have an iCloud account, you can create Shared Photo Streams to distribute amongst friends and family. Just select a group of pictures, tell iCloud who to share them with, and your images will be sent to their iOS 6 devices, iPhoto on their Mountain Lion-running Macs, Apple TV, and the Web, where friends can download them and leave comments.
Do shared Photo Streams count against my 5GB iCloud storage limit?
Nope. Like Photo Stream itself, photos here don't run up your iCloud storage.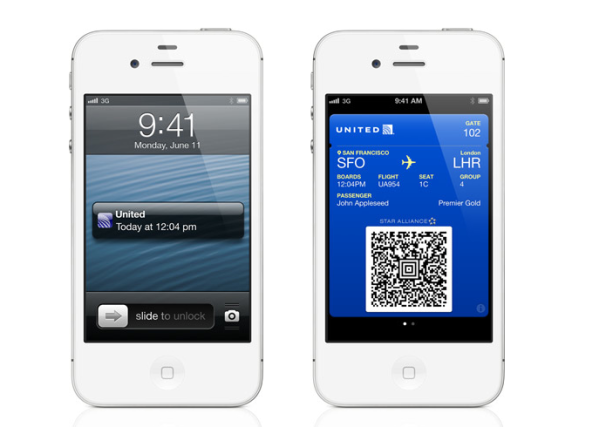 What's Passbook? Why would I use it?
Passbook is a way for retailers, ticket vendors, and airlines to give you electronic tickets and loyalty cards. Companies can create Passbook files for your tickets and such, which you can add to your Passbook app; when you arrive at a concert, they get scanned or registered like a printable ticket. On top of that, tickets and loyalty cards can use your location and the time to let you know when you're near a place or when your flight's set to take off. If you have something like a boarding pass, it can update wirelessly if there's a delay or gate change.
Disappointly, Apple hasn't revealed much about how Passbook will work since its June iOS 6 preview. But the preview page on its iOS 6 walkthrough displays a number of cards, tickets, and reservations filed away on an iPhone screen. More significantly, Apple's screenshots include the likes of American Airlines, Starbucks, Sheraton, Target, Delta, and Major League Baseball, among others; presumably, Apple wouldn't have included these specific companies if deals weren't already in place. (Indeed, reports have some travelers discovering mobile passes that already support Passbook.)
Hey, where's my YouTube app?
As of iOS 6, Apple and Google have gone their separate ways, so there's no longer a YouTube app included by default with iOS. Don't worry, though, you've got options. For one thing, you can just browse straight to the YouTube website in Safari—most of the features should work just fine.
If you're using an iPhone or iPod touch, Google's developed its own YouTube app that replaces—and in many ways, improves upon—Apple's. And, naturally, it's free.
International features
So, I hear Siri's picked up some new languages?
Indeed it has. In addition to English (U.S., U.K., and Australia), German, French, and Japanese, Siri can now speak Canadian English and French; in Spain, Mexico, and U.S. Spanish dialects; Italian; Italian, French, and German in Switzerland; Korean; Mandarin in Taiwan; Cantonese in Hong Kong; and Mandarin and Cantonese for mainland China. Which, let's be honest, puts most of us to shame.
And it sounds like there's a lot of new features for users in China?
More than a few, that's for sure. There's improved text input methods and a new Chinese language dictionary to make typing easier and more ccurate; the ability to mix full and abbreviated Pinyin and English words without switching keyboards; and double the number of supported characters for handwriting recognition. Plus, adding words to your personal dictionary automatically syncs them between all your devices via iCloud.
In addition, Apple's added a number of local services in China, including Baidu as an option for search engines, the ability to share with video services like Youku and Tudou, and posting to Chinese microblogging service Sina Weibo from a variety of apps.
(Source: MacWorld.com)